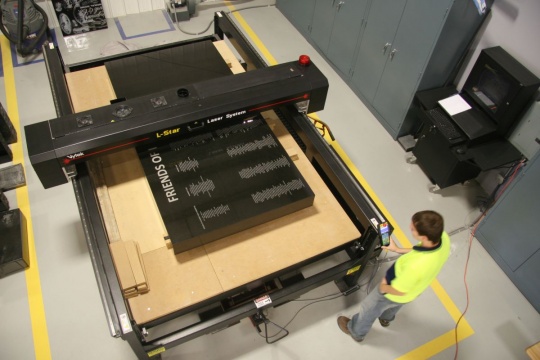 Laser etching involves manipulating an image (photograph or other) and having that image engraved directly onto black granite with a laser machine. The result is both photo-realistic and highly detailed. It is important to note that the quality of the etched image greatly depends on the quality of the image we receive. Low resolution images and blurry images will result in low quality etchings. Using the industry's latest large format laser etching machine (Vytek LST610), Tecstone is able to handle all of your etching needs up to 6' x 10' in our on-site production shop.  We offer both color* and B/W etchings from your supplied photographs and pictures, or original designs and scenes created specifically to meet your needs from our own art department. 
Color etchings are available only for spots and scenes, not portraits.
When it comes to laser etching the first rule of thumb is: Input Quality equals Output Quality.
Many families submit sub-par photos and images whose resolution or actual physical size handicaps the quality of the final etched image.  The best etchings have both high resolution and are of a large size.  We are providing a document to help educate your staff and your families on needed image resolution and size.  The download for this document is below the picture to the right.
Should you have further questions, please feel free to speak with our customer service or art departments.
Hand etching is very different than laser etching in that an artist literally etches the stone by hand. The image is painstakingly applied to the stone point by point to achieve the likeness of the image.
When to choose hand etching over laser?
The stone has an irregular surface that cannot fit under the etching machine.
The monument is large and already set on location (eg, mausoleum, columbarium, etc)
You need to match an existing hand etching.
Your customer likes the idea of an artist's touch on a photo.
The photo is too poor of quality to laser etch; a hand etcher might be able to etch it.
There's a desire for modifications in the photo, eg. remove moustache and/or beard, remove glasses, fix expression, etc.
Working from an original artwork.  (See below examples)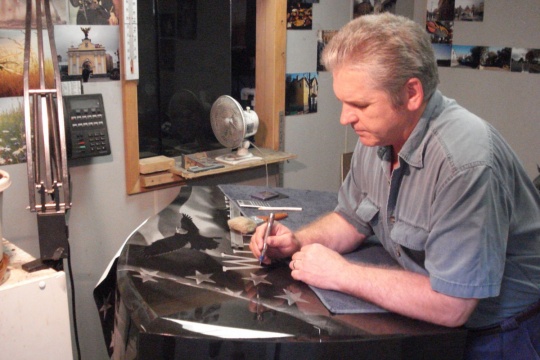 Conversion From Child's Drawing To Hand Etched Memorial
This colored drawing by a grandchild was the what the grandparents wished on their headstone.
This was accomplished by hand etching.  See side pics of finished results.