For those of you familiar with Tecstone's online Account Manager (formerly known as Platinum),  you'll be pleased to know we've completed the first phase of improvements with a new layout and additional functionality.  This is only the beginning!  It may take a session to get used to the new interface, but we're sure you're going to find it more intuitive and more inline with current online platforms and shopping carts.
FOR THOSE WHO HAVE NEVER USED THE ONLINE ACCOUNT MANAGER - you should really give it a try.  It's very simple and allows you 24/7 access to view our inventory or place orders.
It has a simply navigation menu that leads you to all of your needed account information.
Current Orders
Current Quotes
Inventory Products
Ready To Ship
Statements
Invoices
Bills of Lading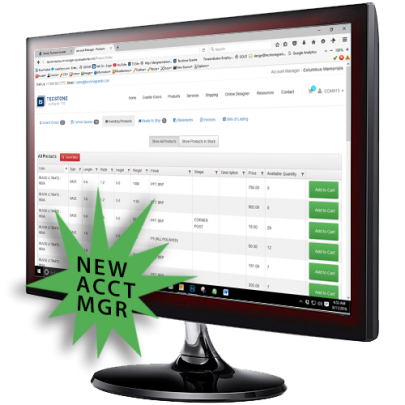 HOW TO PLACE AN ONLINE ORDER